How awesome is this story and even better that it occurred in our backyard.  I have attached a copy of Upper Decks press release in regards to the promotion that will be running this month.  CARDIACS will be ready for everyone so come in and pick up a pack of Upper Deck 2017 Hockey!  See you Soon!!
**Upper Deck Blog post in regards to Jorge Alves Promotion**
---
Less than three weeks ago, Carolina Hurricanes equipment manager Jorge Alves made headlines when he signed a professional contract to be the backup goaltender in place of Eddie Lack who was ill. What made the moment even more special was when Alves was called to the ice to take over for Cam Ward for the final 7.6 seconds of the game.
Upper Deck, the exclusive provider of trading cards for the NHL® and NHLPA, felt the moment was certainly worthy of commemorating with a trading card, but the company had a hurdle to overcome. Jorge Alves was not a member of the NHLPA so the company could not create a card for him without reaching a deal with Alves personally. Upper Deck is pleased to share a deal has been reached and there are two different rookie cards in the works for Alves.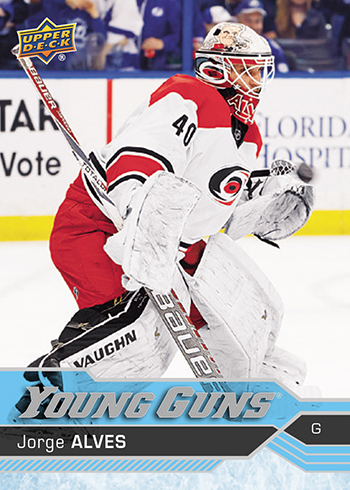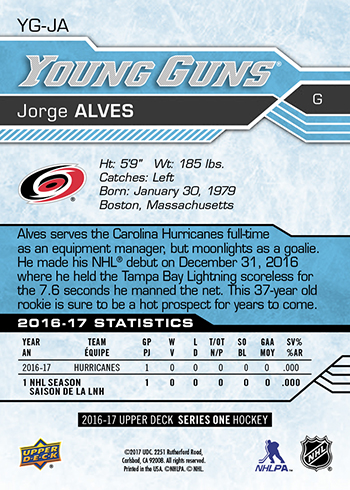 The first rookie card for Jorge Alves will be a Young Guns promotional rookie card available in early February, 2017 at trading card shops throughout North Carolina. Cards will be available as a gift with any 2016-17 Upper Deck NHL® pack purchase.
---
Recently we caught up with Jorge Alves to ask him about all the excitement and what it will be like to have his very own Upper Deck rookie cards.
UD: What was your hockey playing career like prior to your professional debut?
JA: "My hockey career started on the streets of my hometown. Street hockey, deck hockey and pond hockey really paved the way for my love of ice hockey which started when I was in junior high. Two years of junior high hockey got me prepared for the next four years of high school hockey (freshman year as captain of JV and the next three years as starting goalie in Varsity). After high school, hockey took a back seat to the following four years of my life serving in the United States Marine Corps. After my honorable discharged in 2001, my quest to play at a high level began. While skating an adult recreational league, I found out that one of the local universities had a club hockey program so since I was planning to enroll anyway, this would be a good fit. I played two seasons with the NC State club team and while I was there had the opportunity to skate with NHL players during informal summer workouts. From there I began my year minor league career, often as an "ebug" (emergency backup goalie), but I was lucky enough to sign a few contracts along the way. Finding free-agent camps to attend and hoping to get noticed enough to be invited to a training camp was kind of an obsession. All I wanted to do was play hockey. Towards the end of that five-year minor league run, I found myself on a team that happened to need an equipment manager. Since I had been gaining experience with the Carolina Hurricanes as part-time help, it seemed like a logical move for me to accept the position and start making my transition from player to equipment manager. Splitting time between the Twin City Cyclones (SPHL) and the Carolina Hurricanes I was able to still skate as a practice goalie and gain that ever needed experience as an equipment manager. I knew that my chances of playing in the NHL® were highly unlikely, well definitely not going to happen, so I worked towards being the best I could be at my new career and trying to make it to the show as an equipment manager."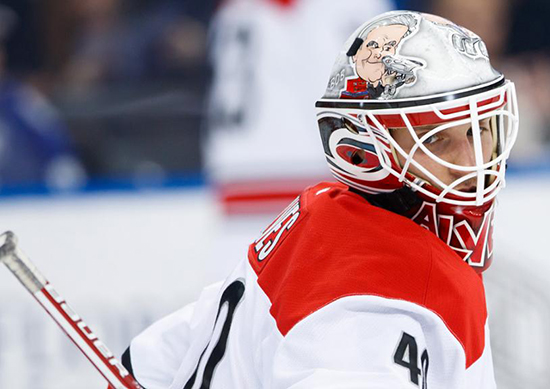 UD: What are your everyday duties like with the Hurricanes?
JA: "As an equipment manager my focus is on insuring that the players have everything they need to perform to the best of their ability on the ice. With the help of other equipment staff we sharpen and repair skates, sew and repair equipment, wash daily laundry, make equipment orders, fill and set up water bottles, issue team apparel , handling logistics when it pertains to equipment transfers from city to city when traveling, and managing the equipment budget just to name a few things.
UD: What was it like when you suited up for the game? And made your way onto the ice?
JA: "Suiting up for the game was pretty surreal. I have had the pleasure of dressing for practices on a regular basis and so I was somewhat used to being around the guys in full gear. However, it's a different feeling when its game time. I can't say I was really nervous. Being something I've thought about for a long time it felt natural, although a bit shocking. I was trying to make sense of it. I wasn't sure if it was real and actually happening or if it was a very vivid dream that I didn't want to wake up from."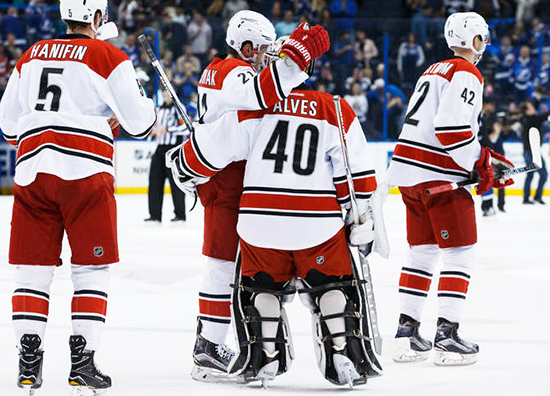 UD: How has your family reacted to this?
JA: "My family was watching on television at home since we were on the road. I spoke to my wife briefly before the game and couldn't keep it together. She was genuinely happy for me. She knew what a moment this was for me and I think was as happy as I was. My parents and siblings also knew how big of an opportunity it was that they also felt overwhelmed with joy."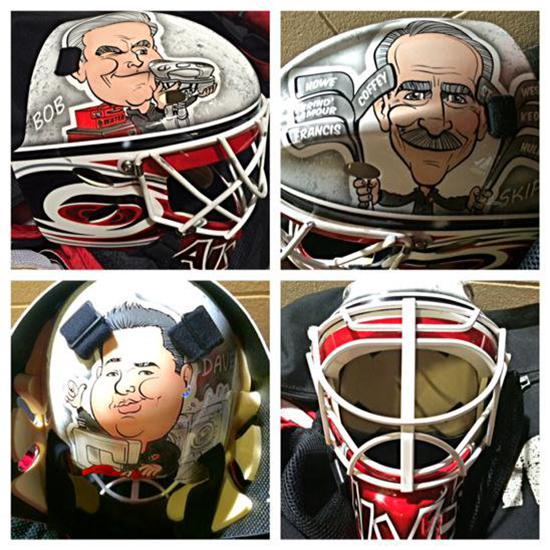 UD: There was a lot of talk about your mask which features your fellow equipment managers on it. Anything you can share there in terms of the inspiration?
JA: "Well I've always been mesmerized by paint jobs on goalie masks and decided to start learning to paint my own. I bounced around on so many teams in the minors that the hobby which started in junior high came in handy by the time I got to the minors. The inspiration came from my respect of the guys I work with. They all work very hard and I'm grateful to them for what they have taught me and are still teaching me. If I was ever going to get this opportunity, I also wanted to make them a part of it and show everyone my appreciation for them. A tribute to them on my mask was a no brainer for me."
UD: What will it mean to have your very own Upper Deck rookie card?
JA: "To have an Upper Deck card would just be the icing on the cake. The cherry on top if you will. I first started collecting cards when I was a kid and just remember the excitement of opening a pack and not knowing who might be in it. I think it also taught me negotiation skills when it came to making trades with friends. I just remember it being so much fun and now that my kids are getting old enough they too will enjoy that experience. I still have my cards from back then and now that I will have an official rookie card, I hope that my kids will add me to their stack of favorite player cards once I pass on my collection."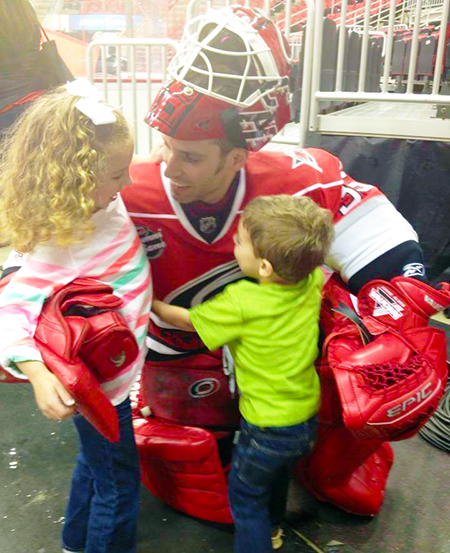 UD: How has collecting cards helped strengthen the bond with you and your son?
JA: "My son and I have only just started talking about collecting. What sports, he would want to collect and which players. I'm sure that when he sees a card with his dad, that it will change things for him a bit. I was specific in what I collected with hockey and baseball being my favorites. He is pretty open to all sports right now so I'm sure that even though his dad is on a hockey card he will also want to collect baseball, soccer, football and any other cards he can get his hands on."
UD: Anything else we should know?
JA: "I just want to let everyone that this has been an amazing experience for me, I am truly surprised at how much this has impacted not only people that I know but also people that I never met. I learned at a young age that hard work, following your heart and perseverance will bring you happiness. I hope that my children and others take the experience I've had as proof your dreams can come true as long as you don't give up."